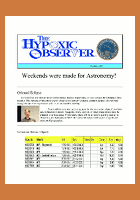 The Hypoxic Observer© was the official newsletter of The Colorado Springs Astronomical Society. In 1999, the editor was awarded Mabel Sterns Award (first runner-up) by the Astronomical League for outstanding newsletter editing.
The Hypoxic Observer© is available as PDF (Portable Document Format) documents. Our forums and this website have pretty much taken over the function of the Newsletter, so we have stopped making a formal newsletter. However, the past couple years previous editions are available. If you are interested in editions further back, please send an email to the webmaster and we can send you a pdf file.
To view the PDF version of the newsletter, you must have Adobe Acrobat Reader 4.0.1 or later installed in your system. If you do not, you can download it now from Adobe Systems for free!
Below is a list of newsletters available for download. These PDF files will open in the same browser window after you click on "download" to the popup that appears (if your browser supports PDF files) so you'll need to hit the browser back button to return to our website. If it opens in your browser window you can save it to your computer from the PDF menu. Thanks!
---